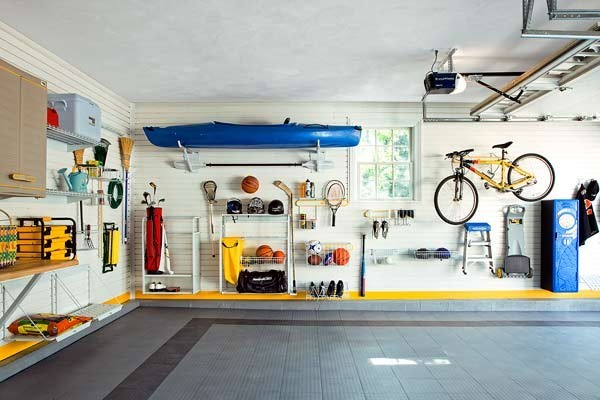 ---
Organizing Your Garage
Spring is here, and your garage may need your attention. From sweeping cobwebs to throwing out old, useless junk and organizing family belongings, spring cleaning is essential to keeping a tidy house and a Neat Garage. Many people look forward to the warmer weather and casual atmosphere that arrives with the summer months. From out of the garage come the bikes and skateboards, the gardening tools and golf clubs…..if you can find them, that is.
Garages tend to become dumps for just about everything. Because they're such big open spaces, they're easy targets for that suitcase that won't fit in the closet, the rollerblades your daughter doesn't want to give away yet, and anything else that doesn't have a set place. Organizing your garage is not always fun, well for me at least not, but I can leave you feeling great after it is all said and done. When you can actually see your garage floor and walls or maybe even be able to park a car in it is a great feeling. It will take some work but, if we keep up with it we should only have to do it once.
You'll likely need to set aside a full weekend to organize your garage. As you won't be able to complete this task by yourself, get your family or friends to help you out. It might be a good idea to bribe them with free pizza for lunch.
Before reorganizing, try taking everything out of your garage. Looking at the space you have as a blank canvas can give you a better idea of what you're working with. Working with a clean slate can help you decide which areas are best to designate for certain activities. (Now that you have your garage empty and you have enough in the budget please consider coating your floor. This is a pretty big project, but is well worth the trouble. Whether you do it yourself or have a company do it, you'll need the floor spotless and the garage will need to be empty. This process can take 1-2 days, then 3-5 days for drying, so plan ahead if you want to do this. In the end, you'll have a nice slick garage floor like a professional service shop or dealership).
Now back to decluttering, go through every box or items, including tools, unpacked boxes from when you moved and anything else that was taken out of the garage. Separate the items that you want to donate into one area of your driveway, items that you want keep into another area and stuff that you want to throw away into a separate pile. Organize the items you want to sell into separate piles on a tarp in your garage for temporary storage.
When deciding what to keep, what to donate, and what to throw away and you find yourself questioning a particular item, ask yourself:
-Do I love it?
-Do I need it?
-When was the last time I used this?
-If I donated it, could it be safely used by another person?
Clearing out clutter is incredibly satisfying, and odds are you won't really miss those old golfing clubs. When in doubt, donate or toss it. Recycle and donate as much as possible, and dispose of paint and other hazardous waste safely.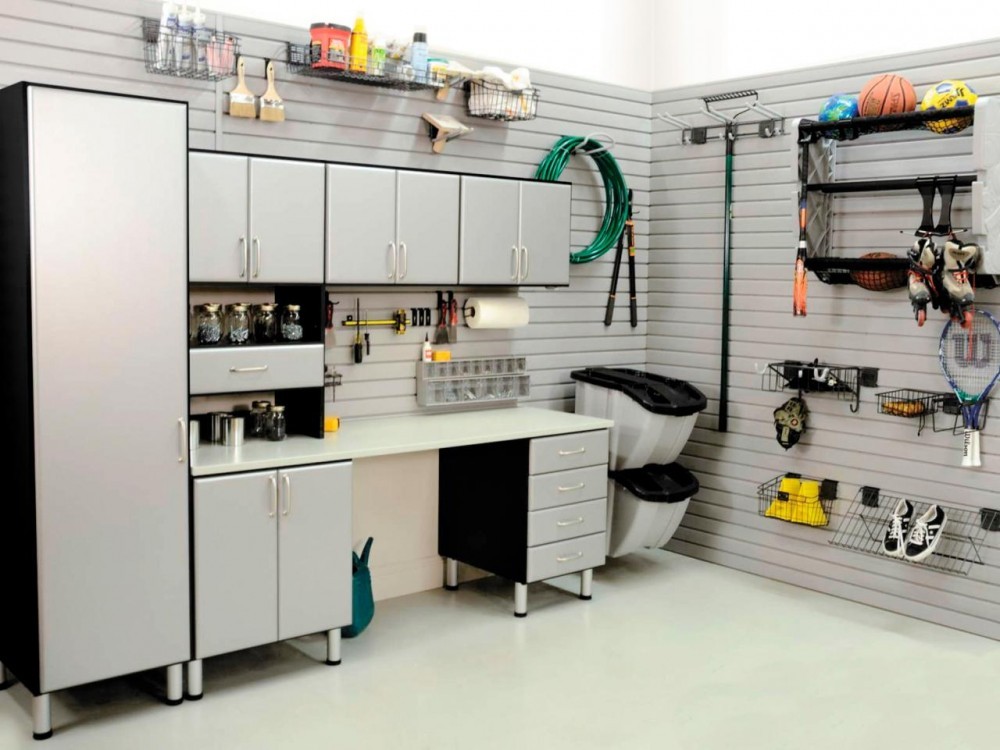 Separate Work Areas

Another good idea is to decide which area of the garage is going to be used for what purpose. Think carefully about what you want your garage to be used for, and the best possible way this space can be divided.
To maximize garage organization and accessibility, stick to a zone system. This plan suggests breaking the space into different sections based on what you are storing and how often it is used:
Transition Items

: Keep the things you take with you anytime you leave in an area by the door using shelves and hooks.

Everyday Items

: Set up an easily accessible shelf or cupboard for the things you use every day but don't have room for inside.

Tall and Thin Items

: Use the side walls of the garage to store long items vertically on hooks.

Seldom-Used Items

: Keep seasonal items or things you don't use often high and tucked away in a cabinet in the corner or hanging from the ceiling.

Often-Used Items

: Things you use fairly regularly, but not every day, should be kept near the garage door along the side walls.

Work Station Items

: Whatever your passion or hobby, create a small workstation near the back of the garage with cabinets for storage and table space to work on.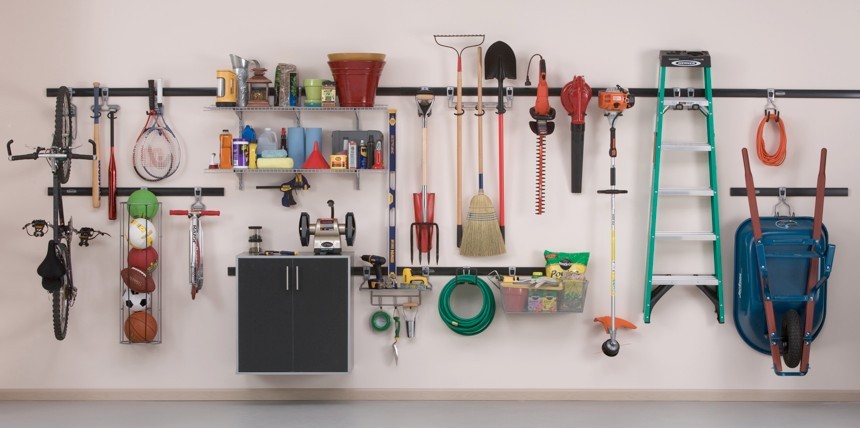 Using Space Wisely
Use as much wall space as possible to store tools and boxes by installing shelves inside your garage. With the use of a few shelves, you can free up a significant amount of floor space. Add a shelf and some wall hooks to maximize your space. If you want to save space on top of a shelf for bins and boxes, use the bottom of the shelf to store smaller items like nails, bolts and screws.
Simply take a clean jar and bolt the lid to the underside of a shelf. Then, put the items in the jar and twist onto the lid until it is closed. This storage solution saves space and keeps your small items organized and in sight whenever you need them.
Your garage is a catchall for the equipment you use when involved in activities such as gardening, home maintenance or sports? How often are you frustrated by your inability to find your favorite garden clipper or paintbrush? It is high time to get your garage organized so everything has a specified place of its own and you know where it belongs. When that happens, you will be pleased to find out that your car fits back inside as well!
Many people want to tidy up the garage, but get overwhelmed by the magnitude of the job and then give up. To keep that from happening, start with a detailed plan that has been custom designed for your individual storage needs and that functions well for your preferred activities. If you wish, the plans can outline how the project is to be completed in stages, rather than all at once. Most of the time you don't have to spend a lot to make your garage into a useful space.
Similar to your kitchen, a garage may be divided into zones so more than one person may be active in the space without bumping elbows. For example, do you complete small woodworking projects in your garage? Place all the tools necessary for this hobby within easy reach of your work bench. On the other hand, you should separate this activity from the area where another family member enjoys repotting plants.
Many types of hooks, baskets, shelves, and hangers are available; for use on slatwall, on drywall, or from the ceiling. While many hooks and racks are useful for hanging bicycles on the walls, they are also good for hanging a number of other objects, like tools, folding chairs, skis and all kinds of other sporting equipment. These easy-to-install hooks will make the walls of your garage a versatile space that can hold any number of items.
If you're short on room, try utilizing the ceiling for storage space. There are plenty of kits on the market designed for ceiling storage, and it will help get those less than pretty cardboard boxes out of the corner of the garage.
Cabinets in your garage organization plan can be some of the most valuable items. Use them for objects you don't want exposed to dirt and moisture that may be dragged in by your car or motorcycle. Items such as clothing, food, and certain tools can take up residence in your cabinets. It may help to divide your cabinets according to what they are holding: one cabinet for food, another just for clothes, another just for tools, another for paints and stains. Be sure to keep chemicals or other harmful materials away from food items.
Remember that you can never have enough storage bins and small organizers. These are ideal for storing anything from screws and bolts to small tools and even fishing lures or other recreational gear. Always label any boxes and containers with a clear description of the contents. Make sure you store the items with the labels facing out and keep all related items in their respective zone. Not only are these labels useful for organizing your existing items but, they are also helpful for knowing where to put items in the future.
The mainstay of today's garage storage systems is a specially designed heavy-duty rail or panel that is mounted along the garage wall perimeter. From this rail many different modular components, consisting of lockable cabinets, wire baskets, shelving, work surfaces, hooks and other accessories, may be hung. Utilize not only the garage walls, but also the ceiling, to maximize your storage possibilities.
These systems will protect your items from damage, increase their longevity, and eliminate the safety hazard they present when left lying about the garage. Since these systems are designed to be adjustable without tools, the components can be easily rearranged and new ones added as your needs change.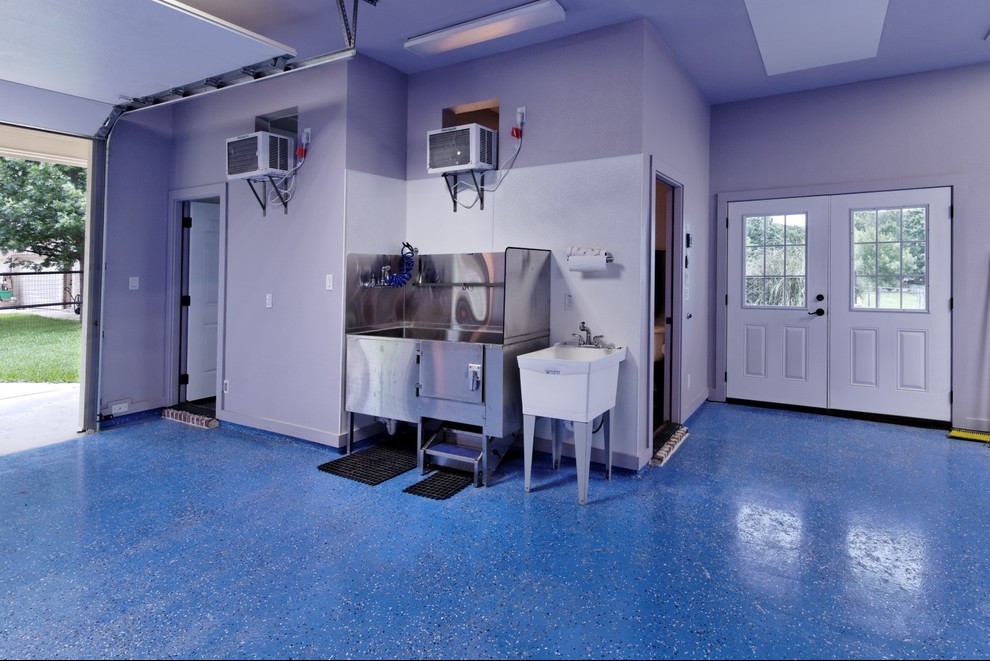 Sinks and Appliances

To increase the functionality of your garage, also consider adding a heavy-duty sink for clean-up (this would require plumbing), a non-porous stain-resistant floor covering. Depending on the size of your garage, you may be able to put a small refrigerator out there. Remember, refrigerators take up space and electricity, so be sure to consider those factors into your garage organization.
If your garage is not insulated, the refrigerator/freezer should be designed to endure extreme temperatures and humidity. If a refrigerator is not on your list of needs, try installing a system of metal shelves. Start up high and work your way down low. Things you seldom use but don't want to get rid of can go on high shelves. If you rarely use these items, then it won't be so hard for you to pull out the ladder to get them the one or two times a year you need them. They are inexpensive, easy to assemble, and come in a variety of sizes.
The key to successful garage organization is the first step, determining what you need and what you don't. A good cleaning may be as far as you need to go, since many of us tend to clutter our garages with our belongings, and then forget about them. Dealing with a cluttered, messy area can seem overwhelming, but with the right garage storage solutions and organization ideas, you can have a clean and functional area – with room to park your car.
Remember these garage organization ideas when you decide to make your Garage Neat again. Get your quarterly or biannual garage maintenance on your calendar. If it doesn't make it onto your calendar, it's less likely to happen. And remember to put things away promptly after using them. Doing this will maintain a useful area for the whole family to enjoy and It will save your from this work again, at least to this extent again.
Thanks For Reading
MyNeatGarage