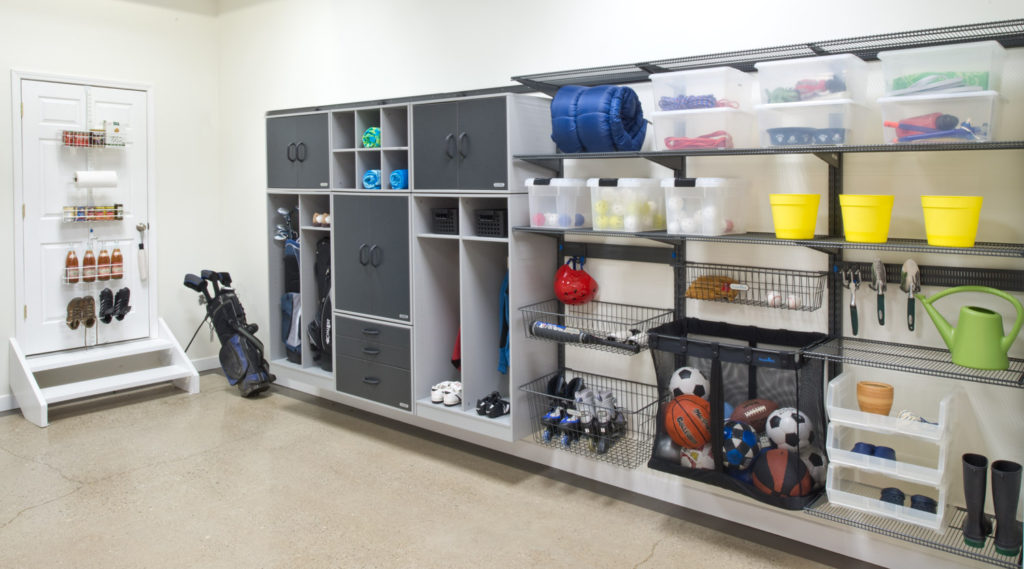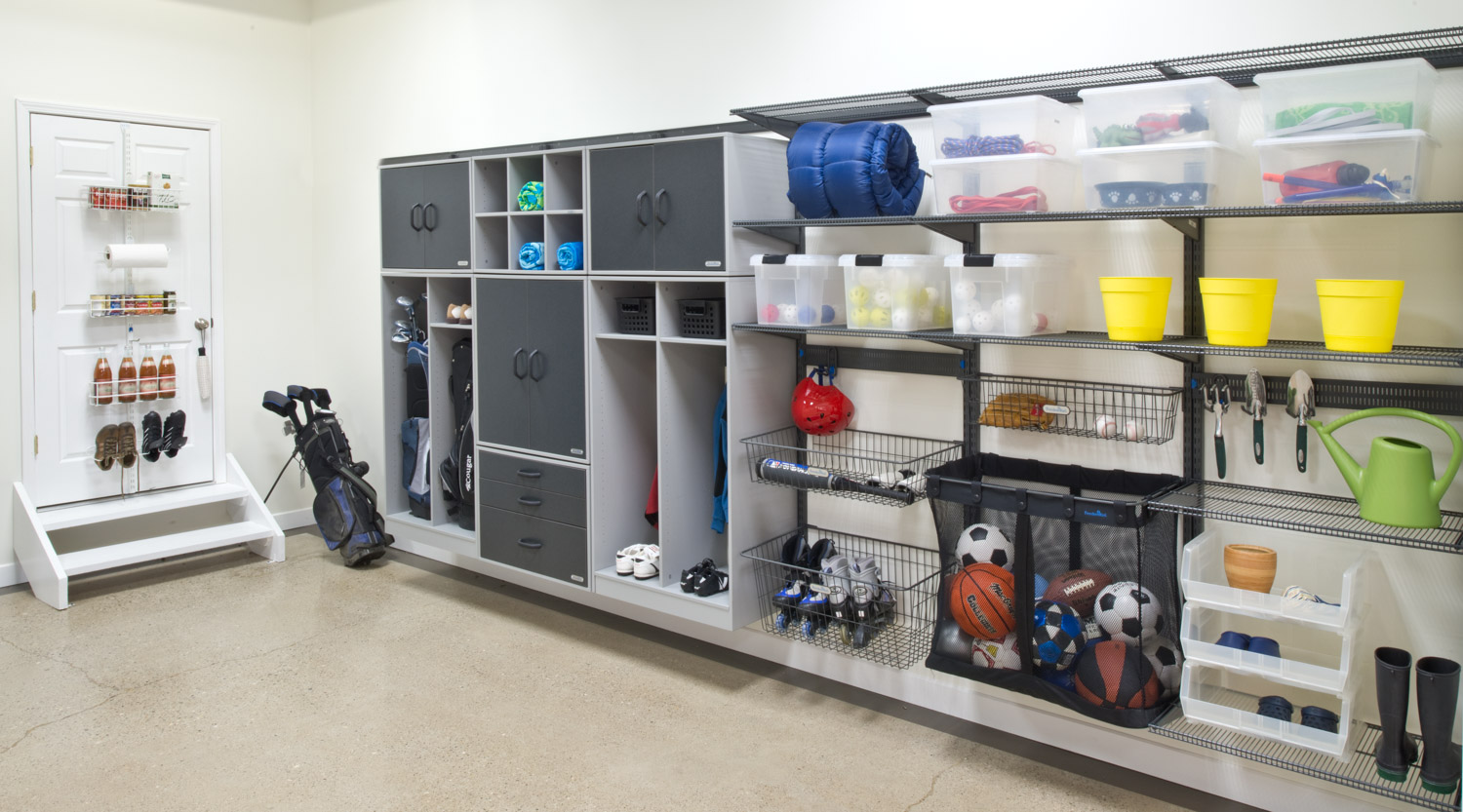 Garage Organization Tips
Are you the kind of person that believes that there is a place for everything and everything has a place, sounds great, but for most of us, it is just impossible.  In the rush of everyday living, things just get messy and that includes garages.
Did you know that most Americans consider their garages are cluttered and overfilled with stuff? And that nearly a third of Americans can't even fit a car in their garage due to the volume of items they've stored inside? It's little wonder that most garage cleaning projects start with a thorough de-cluttering.
The garage is an extension of the home, but it's easy to neglect because you may not spend much time in it. However, with the right personalized storage solution, your garage can be as well-designed and as functional as the rest of your house.
Take charge of your garage with organization. Add garage shelving, wall cabinets, overhead storage, and pegboards, then make the most of narrow, unused spaces and you're on your way to a garage that has room for everything—including the car.
Before devising the ultimate organization system, get a sense of your inventory. Set sports gear in one area, hand tools in another, garden supplies in yet another area. Designate separate areas for specific types of items.
Keep the lawn mower and garden tools easily accessible. Tuck the holiday decorations away as you'll need them less frequently. As you're looking through everything, take advantage of the opportunity to reduce clutter. Donate or discard any items you no longer use or need. Lightening your load is half the storage battle.
To get started on transforming this multi-use room, you have to determine which storage solutions best fit your unique needs.
Time For Garage Organization
Is there so much clutter in your garage that you don't even know what's in there? About 25% of people with two car garages, don't park any cars in them and 32% park only one.  When it comes to three-car garages, only 13% park three cars.  So, if we don't park cars in our garages, what do we use them for? You guessed it, to store things we probably don't use and probably won't need.
Evaluate your needs: First pinpoint exactly what you need to organize. People often need zones in their garages for general tools, sports equipment, car care supplies, holiday décor and gardening supplies. Within these categories, you may want just general storage, or you may choose to incorporate a prep area for, say, wrapping holiday gifts or potting plants.
If you have a family, and your home doesn't have a mudroom, consider installing lockers or specialized storage for each family member. This will help keep winter coats and other bulky, person-specific items organized.
Garage Disorganization Causes Injuries
More than 75 percent of reported garage related injuries result from either falling or stepping on an object left on the garage floor, two hazards that could be avoided with adequate lighting and proper organization.  About 60% of garage users report that their garage is unorganized, and one out of three garages does not have sufficient lighting.  Most families utilize the garage for storage, and many frequently keep potentially dangerous items in their garage that must be handled with care.
Make sure poisonous products such as pesticides, lighter fluid, paint thinner, antifreeze, and turpentine have child-resistant caps, are clearly labeled and stored in a locked cabinet out of sight and reach of children.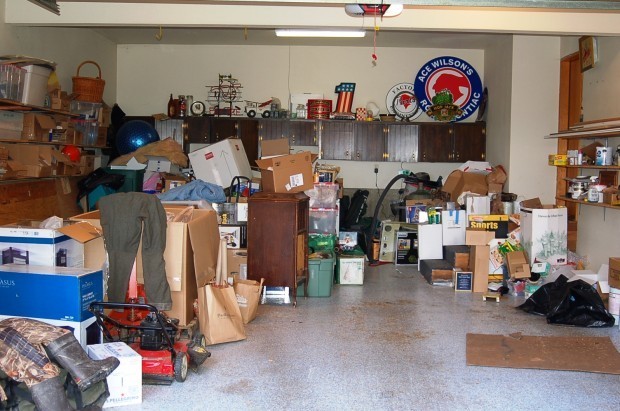 Organizing The Garage
The most efficient storage strategy is being honest about what you really need to keep. So start organizing by getting rid of the stuff that you don't use or need. I begin all projects with pencil and paper… this helps me make decisions and get a picture in my mind's eye how things will best fit in the available space. So decide, then act, moronically simple advice… without a doubt, but also true.
Decide How You Want To Use The Space
Typical items that are housed in the garage are recycling, sports and recreational equipment, camping gear, automotive, seasonal decor, garden supplies, household tools and our personal hobbies. Having garage cabinets or shelving makes things a lot easier, one cabinet for automotive and cleaning supplies, one cabinet for camping stuff and so forth.
The advantage to cabinets over open shelving is that even the most meticulously organized shelves can look junky and cluttered… plus things will eventually get covered in road dust, even if you don't park cars inside the garage.  Besides the stuff you have consider how the space is to be really used and give that a priority.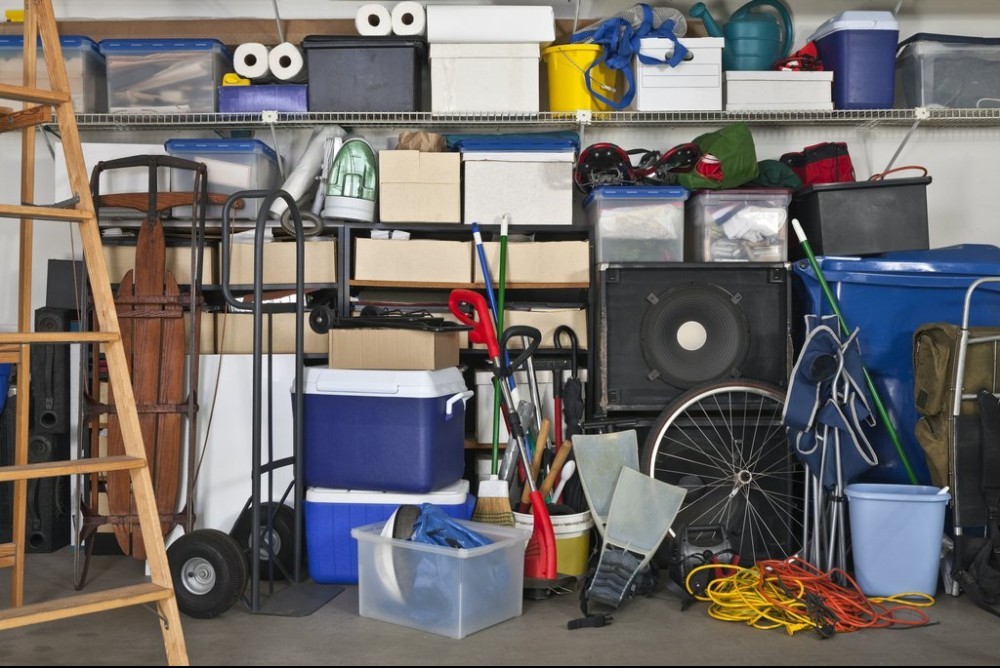 Clear It Out
Everyone in the home has some level of attachment to the items in the garage. Garage organization is not an inside job. You must enlist your driveway for assistance.  Start by emptying your garage out and putting everything onto the driveway. Decide what you want to keep and place those items in one area of the yard.
Create a separate area for things that still work, but you don't need anymore (those can be sold), and, have a big trash bin for things that can't be sold or donated. Whatever does not sell during the garage sale can be donated to charity. Do you have sporting equipment that you haven't touched in five years? Donate it.
Same for those duplicate hedge trimmers that you have collected. Say goodbye to unused or broken toys, bicycles, tools and equipment. Remember to apply the two-year rule: If you haven't used it in two years, chances are you won't. Once you have separated everything you can look at what is left and decide how to best organize it.
Tips for Garage Cleaning & Organization
Your garage is often the last place in your home to get cleaned. And like any project you've put off for too long, cleaning your garage can seem like a massive, impossible task. That's especially true if your garage has turned into a home storage unit, with items hastily stuffed here and there. Even if you've kept your garage in good order, it can be a tough project.
To help with your next garage cleaning, consider using the tips we have put together for garage cleaning, plus tips for how to organize your garage to make your next cleaning easier. Remember that if you do this once,  I promise you it will be easier, the next time you go to cleaning your garage. It is recommended that you do the cleaning every year or at least every two.
Garage De-Cluttering Tips
To get started with your garage cleaning project, start taking items out of your garage and sorting them. Set up piles for items you want to keep, items you want to donate (or sell), and items that you want to throw out. Consider using the declutter by category method to seriously cut back on clutter and junk.
It's best to sort items on a dry day, when you'll be able to keep items on your driveway without risking damage. This way you can leave items outside during your garage cleaning.
Garage Cleaning Tips
With your items outside, perform a thorough cleaning of your garage. While you don't need to clean as deeply in your garage as you would in your living room, you will want to clear out the dust, dirt, and grime that's built up over the months. Start with a thorough dusting. Since your garage will likely have a fair amount of dust, use a damp microfiber cloth to trap dust, rather than risk stirring it up.
After dusting, vacuum the floors, then use your vacuum attachments to clean corners and tough-to-reach areas. Once you've done this, clean your floors. Most garages have concrete flooring, which can be cleaned using a hard bristle broom and detergent or with power washing. If you're looking to remove oil stains, consider using a trisodium phosphate mixture.
Divide Your Space
Take what you're keeping and organize it so that related things are together. Sometimes, random parts or singular items are discovered in the garage.  In this case, if you want to keep them, just store with the most similar category or in a visible place so you remember you have them. Then you're ready for the next step in your garage organization project. Divide your garage into specific areas.
Create a section for yard tools, another for kids toys and another for power tools. Create small piles of garden tools, sporting equipment, toys, holiday decorations, etc. You can even go so far as to sort those categories in to smaller piles (e.g. organize sporting equipment by specific sport).
This will help you to become aware of the importance of each group of items and will ultimately help determine where they should go in the garage.
Move Up – Hanging Storage
You can have versatility and organization in your garage with overhead mounted storage units.
Look to the ceiling for unclaimed hanging storage space. Prevent bicycles from crowding the floor with an inexpensive hoist or pulley system that mounts to a ceiling joist. You can also simply install C-style bicycle hooks.
Add ceiling-mounted wire racks in a central location or install them around the perimeter of the ceiling. Overhead storage is great for occasionally used seasonal items, like tents, tarps, and coolers. Lightweight rack systems attach easily to many ceiling joists, or you can opt for more elaborate versions to hold large, heavy objects.
For ladders, install large hooks or a ladder pulley system to keep them safely out of your way until you need them.
Make sure overhead storage doesn't interfere with the garage door or block the path of your car, and make sure stored items are above head level or out of traffic areas.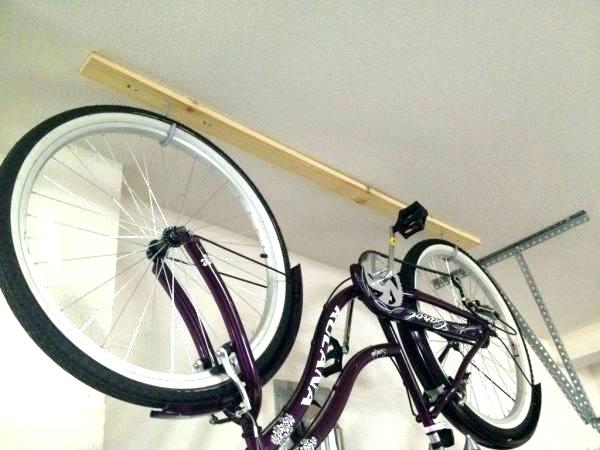 Crafty Garage Cabinets
Anchor the space with built-in cabinets: 
Cabinets can organize a wide variety of items, including extra files, sports equipment and more. With everything hidden away, you can minimize clutter and streamline the overall look of the space. Adjustable shelves within the cabinets allow you to store large and small items alike.
Storage cabinets provide space for stashing small items out of the way and add a clean, organized look to your space. There are plenty of options when it comes to garage cabinets. You can repurpose old kitchen cabinets or invest in a full slat-style wall system that allows you to customize the unit with special hardware.
Open-shelf cabinets offer speedy access to items you use frequently. As an upcycle project, use old wooden crates as cabinet-style shelving for a rustic look.
Your garage may benefit from a workbench, too. Start with one or more large kitchen base cabinets or even a bathroom vanity. Top them with plywood, lumber boards, or a salvaged countertop to create a custom work surface with storage underneath.
After Cabinet Installation
Now it is time to put everything you are keeping back in the garage. Organize everything in order of use and start to fill up your new cabinets and pegboard hooks. Think about valuable real estate when you are considering available space. Parking space and those shelves at eye level or within reach are valuable real estate. Less valuable real estate would be very high or low shelves and should be reserved for less frequently accessed items.
Place toys and sporting items in one area that is away from dangerous items and at a level where the smallest members of the family can grab them easily. Utilize your hooks and brackets to keep all garden tools in one area and use small drawers or jars for nails, screws, and other small building materials. Keep all of your hand tools easily accessible on a pegboard above a work surface.
Store all of your unused pots and planters upside down and on top of each other to make the best use of your space. Seasonal items not currently being used should be in an out-of-reach area and rotated into a more accessible area as the appropriate season comes around.
Put It on a Pegboard
Pegboards are a classic system for controlling clutter in the garage. They provide space to hang hand tools and other odds and ends that would otherwise take up valuable drawer or counter space.
Hang pegboard panels directly over exposed wall studs using a cordless drill/driver. If drywall is already installed, build a shallow wood frame to back the pegboard before hanging the panel. This creates space for the hooks between the pegboard and the wall behind it. Hang a pegboard next to a wall-mounted cabinet or your workbench for a handy place to keep screwdrivers, hammers, and scissors.
Fully Utilize Your Cabinet Space
With a garage storage system you can keep things not utilized regularly (i.e. coolers, seasonal items) higher on the wall or overhead. Store heavy items and toys low to the ground for easy and safe access. If bikes are parked where your car should be, rack them right on the wall.
Using A Variety Of Accessories
You can boost the efficiency of your garage storage system with accessories.  Prioritize problem areas and then select the accessories to handle them. Buy what you need to store it properly and improve your garage organization. Sturdy plastic containers with lids that seal are an excellent way to keep bugs and dirt away. Label everything you have in containers for easy searching.
Use pegboard for general house and workshop tools and accessories. If you can never find small garden or workshop tools when you need them, a pegboard keeps tools out of the way, but within easy reach.
Think Vertically with Wire Racks
A wire rack system, a garage version of a closet organizing unit, is a completely customizable storage solution. Some systems include tracks and clips for lawn + garden tools. Use wire storage bins and shelves for everything else. Install a wire rack system by mounting the horizontal tracks and vertical standards to wall studs.
You probably have at least two walls that can be used to get items off the ground. Use slat walls, racks, hooks, baskets and bins to organize things such as drills and hammers or ski boots and bikes.
Maintain and Maintain
Did you know that 99% of life is maintenance. Put everything back where it belongs, clean it up and feel good because you have transformed your garage from a dumping ground into a useful extension of your home. Now that your garage organization is done, your next step is to keep it that way. If there is room for your cars, chances are that the garage is picked up and organized.
Once your cars move back to the driveway, you have given in to the clutter once again. Make a commitment to return garage items to their designated spaces when you are done with an activity. It only takes a few seconds, and it can mean the difference between keeping your garage organized and neat. If you start out having a specific place for each item, it's much easier.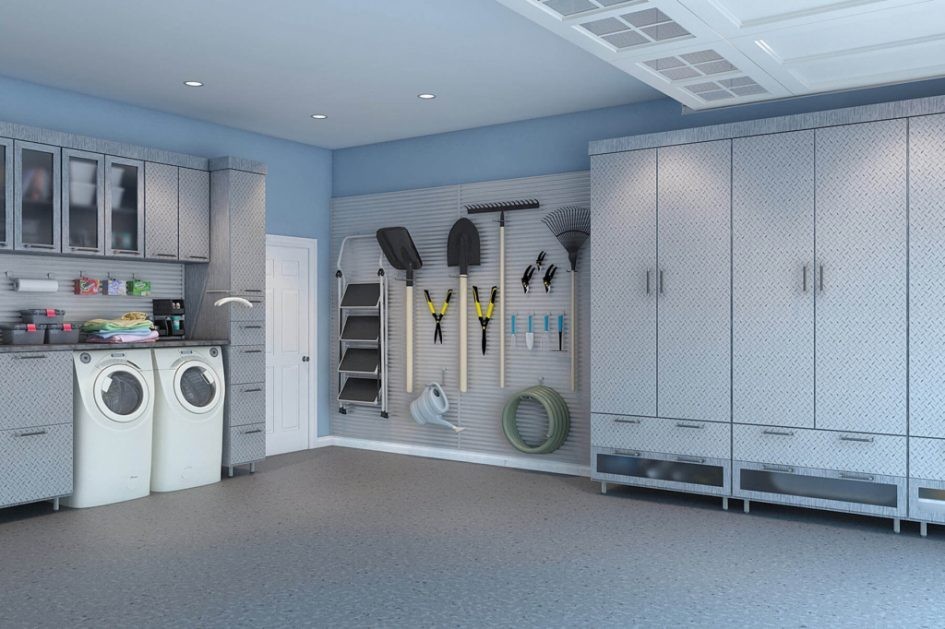 As more people use the garage as an extension of their home, staying organized will help ensure that the garage remains a safe and functional room for the entire family to enjoy.  By taking these tips and putting them into use they will help you realize the garage of your dreams.
One final tip: consider changing your garage lighting if you find it hard to locate items in your garage. A switch from a dim, flickering bulb to a bright and warm light source can make all the difference. Believe me your toe will thank you for that, because how many time have we stubbed our toe looking for something in our dark garage.
Thanks For Reading,
MyNeatGarage