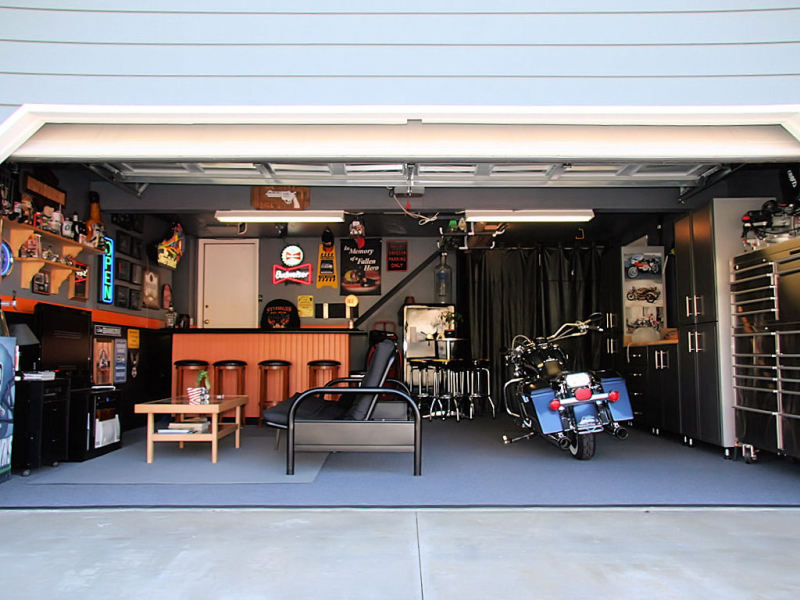 In many homes around the world, the garage serves as a storage unit for all kinds of junk and rarely used items along with staple items like sports equipment, lawn and yard care tools and, of course, the car it was intended for.
However, many homeowners are underutilizing their garage spaces, and not only are they unable to fit their cars inside as a result, but they also can't even locate the items they do have in there. With simple garage organization steps, along with some clever storage solutions, getting the most out of any garage space is easy to do. Here we will see how much does it cost to organize your garage?
How Much Does It Cost To Organize A Garage?
Typical Range:
$683 – $2,436
How Much Does It Cost to Organize A Garage?
Organizing the garage is more of a time commitment for most homeowners rather than a financial one. While there are complex professional storage systems and garage remodeling packages that cost thousands or even tens of thousands of dollars, using DIY ideas and a little elbow grease can completely reshape a garage for as little as $1,000 or less.
According to real cost reports, the average rates homeowners pay for a garage organization project range from $791 to $2,142. This represents a huge range of possibilities and levels of storage.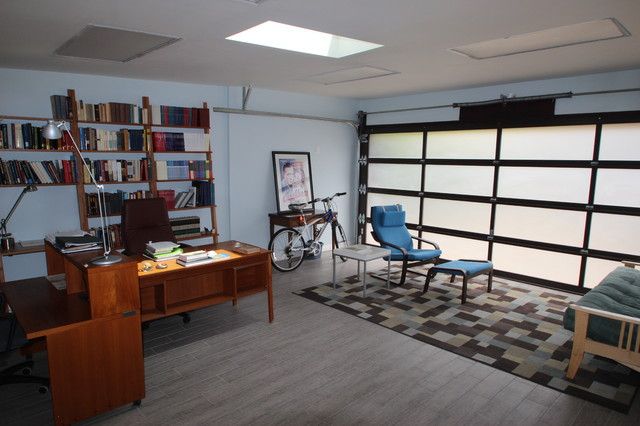 Garage Organization Benefits
Aside from actually being able to fit a car (or even two cars) inside it, organizing a garage offers a number of benefits ranging from the practical to the aesthetic. In fact, a professionally organized garage space with updates such as epoxy floors and built-in cabinetry can actually raise the value of a home. Other benefits include:
Improved Storage Systems:  Even something as simple as open shelving can substantially impact your ability to store more items in your garage and access them faster.
Convenience:  It's hard to deny how much easier it is to go into the garage for a tool and know exactly where it is.
Peace of Mind:  A cluttered home – or garage – can lead to a cluttered mind and that leads to stress, especially when you need to access something inside the garage but can't find it. Organization outside can lead to calm inside.
Time Investment of Garage Organization
Organizing a messy garage can no doubt become a time-consuming process, especially if you've lived in your home for a number of years and misused your garage for just as many. However, with planning and some helpful hands, this is a project that can easily wrap up over the course of a weekend or even a day if the garage is less cluttered.
How often you need to reorganize the garage is just as personal. If organizational systems remain intact and everyone in the household uses them correctly, theoretically, this is a one-off job.
More likely, however, you'll want to revisit garage organization at least once a year, as part of spring cleaning perhaps. This also serves as a way to reassess storage systems, make repairs where needed and get rid of newly acquired junk.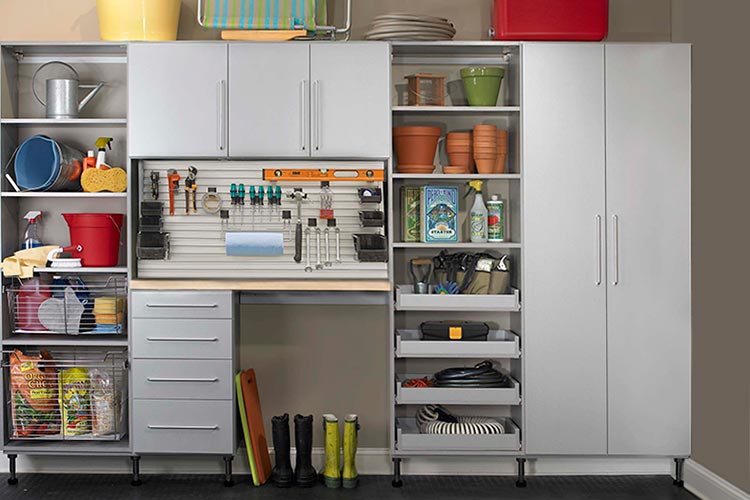 How to Organize Your Garage
For a cluttered and lived-in garage, buying a few shelving systems and organization bins isn't enough. The best way to address garage organization is to tackle it in a systematic manner that serves both to purge and organize the many things that have accumulated inside.
1. Go Through Everything
Look through every box and in every corner and make a conscious decision about each item. The best method is to sort everything into three piles: keep, sell/donate and throw away.
2. Identify Items that Don't Belong
Even though it's common practice to keep them there, certain items like old paint, propane tanks, paper goods and even a spare refrigerator don't belong in the garage for safety reasons.
3. Embrace Safety & Security
Once everything is cleared out, take time to add safety and security measures to the garage, such as a fire extinguisher that's easy to access and high-quality door and window locks.
4. Design A Floor Plan
Plan ahead and sketch out a basic blueprint for where everything should go once you're ready to start. Use sample floor plans from storage systems available online and research items you need to purchase ahead of time, such as hooks, shelving or raw materials to custom-build your own storage options.
5. Fill in Air Gaps
Before executing an organization plan, take advantage of an empty garage and thoroughly inspect the walls, ceiling, doors and windows for gaps that may cause heat loss. Fill them in with caulk or spray foam.
6. Consider A Floor Upgrade
Another benefit of an empty garage is that it allows you to upgrade to an epoxy floor. Resistant to both oil and other stains, epoxy garage floors are easy to clean and add an upgraded look to the whole area.
7. Execute the Plan
With all the prep work done, it's time to add items back into the garage. Also take this opportunity to look into upgrading systems such as lighting and electric, adding outlets to a new workbench or adding fluorescent lighting.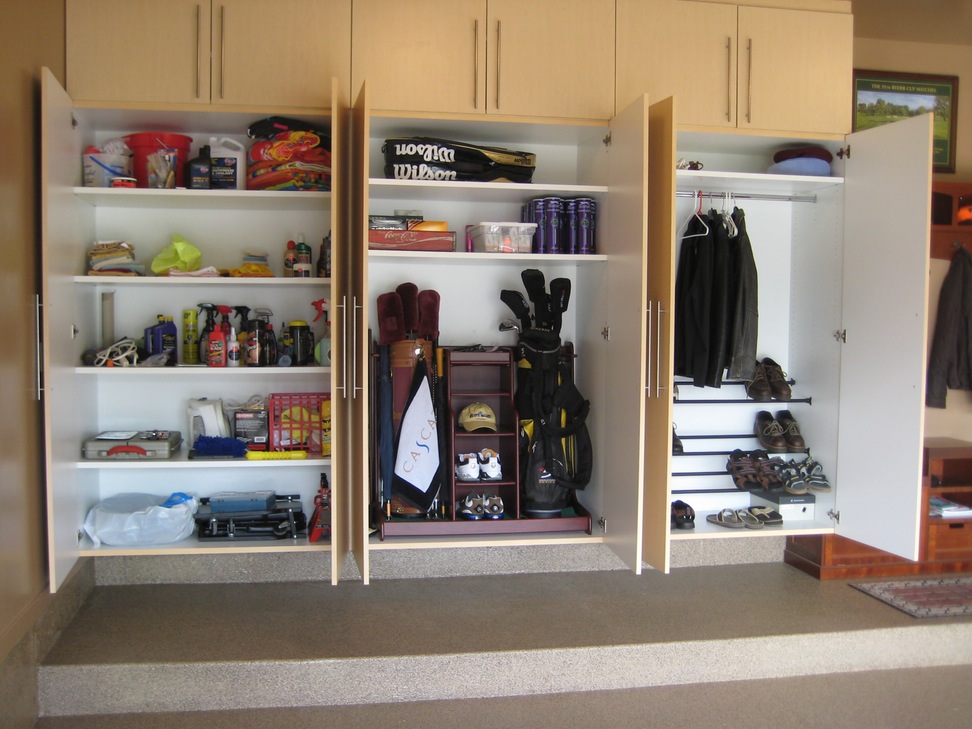 Garage Organization Ideas & Systems
Once you are ready to add in organization systems to your garage, there are many ideas from the simple to the Pinterest-worthy to try. Figuring out what works both with your space and your needs is the real challenge. Consider the following ideas and adapt them as needed:
Simple Shelving:  Square brackets and planks of wood are an easy, bare-bones way to add critical vertical shelving options to your garage space.
Peg Boards:  Called the "king" of garage storage options by many, pegboards are incredibly diverse storage options that allow homeowners to customize their storage through baskets, hooks and even small shelves. As an added bonus, pegboards are easy to install and update as needed.
Ceiling Organizers:  Truly capitalizing on vertical space is easy with ceiling hooks to store large items like bikes and fishing poles. Step this common garage storage system up a notch with mounted shelving, sized to place large bins or boxes for seasonal items like Christmas decorations.
Custom-Built Shelves & Racks:  For the advanced DIYer, designing custom shelving systems that fit precisely in small corners is a great way to use every inch of storage space possible. Custom items are also easy to personalize. Different plans for bike racks, toy storage, coat racks and more are easy to find online.
Bins & Buckets:  The classic catchall for all the "stuff" that you find, large plastic bins are easy to store and stack and make a great repository for random items like toys. Storing smaller items like nuts, screws, nails and other tool-related items in labeled jars is another easy storage technique.
Moveable Storage Systems:  For the avid weekend auto repairman or the active family, creating custom storage systems that are easy to move makes participating in favorite hobbies – and cleaning up afterwards – a breeze. Consider investing in a rolling tool chest for auto repair, for example. Alternately, a rolling sports equipment cart like the ones used in schools makes it easy for kids to bring equipment into the driveway for play and cleanup after.
Garage Storage Tips
Making the most of your garage space is all about optimizing storage solutions, including floor and vertical space, and making each option fit in with your lifestyle and your possessions. Sometimes, larger features such as built-in cabinets are the easiest way to make the most of a garage space. This, too, is a DIY job that you can easily add into a larger garage-cleaning project.
Check out our other blog posts for more ideas on how to maximize your garage storage space, including how to make use of the walls, build your own shelves and utilize vertical space in garage storage.
DIY or Hire A Pro
Garage organization is an easy weekend DIY project that allows homeowners to accurately and personally assesses their items and put them in places that make sense for their lives. However, there will always be cases, such as when remodeling a garage or purchasing a new home, when a professional eye is necessary.
There's a number of companies dedicated to implementing organization systems into every room of the home, including the garage. They can consult with you on your needs and budget and design a space that's as simple as some built-in shelves or as complex as an expansive man cave.
Thanks For Reading,
MyNeatGarage