Awesome Garage Flooring Options
Since you are in the process of cleaning and organizing your garage. Why not take advantage of having an empty garage and think about protecting your floor. It will be well worth it, once you have your garage floor complete. The garage flooring options may depend on how it looks, how you want it to use and work, and how much it costs. If you want the most good looking, long lasting, and most durable floor, there are several options you can choose from.
Epoxy Floor System
When it comes to cost, protection, and durability compared to the floor's duration, one of the finest garage floorings is a professionally done multi-coat resinous system that can be installed in your home.  This is a nice look for garages turned into workshops or game rooms. It can handle car traffic too. The flooring is very durable and easy to clean. Motor oil and most other car fluids won't harm it. It cleans up great.
This kind of coating will typically consist of a combination of a hundred percent solids epoxy, polyaspartic coatings or polyurethane.
This kind of flooring is considered as the most widely used in the manufacturing plants, showrooms, professional mechanic garages, warehouses, and restaurants. The finish is basically three to ten times stronger than the concrete's finish depending on which coating combination you choose and majority of manufacturers offer lifetime warranty.  Adding a layer of decorative chip beneath the top coat takes the appearance from good to great.
Garage Floor Coatings
They are resistant to the road salts, water resistant, almost stain proof, resistant to chips from the dropped objects, and highly resistant to chemicals. Garage floor coatings are also easy to look great and clean. There are many color options, various aggregate to mix into the floor, and custom paint chip colors. If you have an active garage and demand the best professional flooring to be installed, this might be a good option.
Interlocking Garage Floor Tiles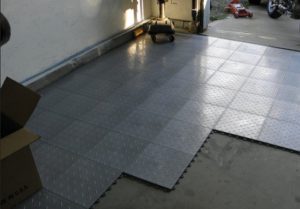 If you want a good looking and tough floor, yet want something that's easy to install to enjoy savings, interlocking garage floor tiles can be a great choice when it comes to your garage's best flooring. They're an excellent choice if you have some issues with your slab.
These are made from PVC, polypropylene and other polymers. Tiles are available in a wide array of colors and sizes, and you can be very creative with the design by using multiple colors. Surface designs include coin-top, diamond-top, ribbed and more. The edges interlock for easy installation and removal. There's no adhesive – the floor floats.
Polypropylene tiles are tough, easy to clean, resistant to stains, and come in different cool colors to custom design a good looking garage floor. Several companies offer warranty of ten years or more on the tiles and they're easy to install. The usual two-car garage may be completed in a few hours.
One of the best features that makes this kind of flooring unique is its hollow core underside. If you have issues on moisture, this tile will enable air drying underneath, which avoids mildew and mold problems. It makes for great drainage when pulling in wet car from rain or snow and could be a good buffer to cold concrete.
Interlocking garage floor tiles may easily span the cracks in the concrete and follow the floor's contours. Rolling tool boxes, jack stands, and jacks aren't a problem with this kind of garage flooring option. Floor tiles are ideal for weight rooms, game rooms, man caves and workshops. They work well if you're converting your garage to a home office and want it to have a masculine, athletic feel. Parking a car on it is not a problem.
Porcelain Garage Tile Floor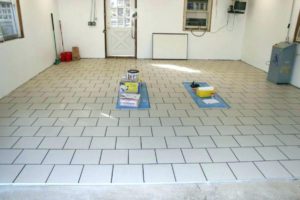 If you do not have moisture problems with your garage, you have to consider porcelain tiled garage floor. This kind of flooring is durable, luxurious, and popular for most garage owners. It is resistant to water, road salts, impacts, chemicals, and stains. Drive through porticos, manufacturing plants, and mechanics garages are some of the examples where porcelain tiles are used.
This is a timeless flooring that works well anywhere. With tiles available in so many different sizes, shapes and colors, you can customize the look of the floor. Like we said before, tile flooring handles water and most chemicals. It stands up well to foot traffic, but not well to vehicle traffic. Tile floors are popular for garage conversions to large kitchens and game rooms.
Another drawback about this garage flooring, it's that several choices can be slippery when wet and grout can be dirty once not cleaned and sealed properly.
Wood Flooring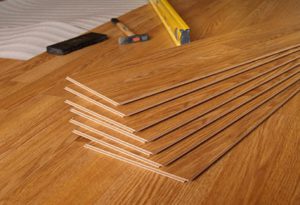 Engineered wood flooring is a better choice than solid wood flooring. Engineered flooring handles humidity change well, so it won't swell or buckle the way solid wood will. It can be floated over concrete or glued down. In most cases, there's no good reason to glue it. A floating floor is much easier to repair or remove.
Your wood options and color choices are outstanding. Traditional woods like maple, oak and cherry are available along with exotic woods like teak, bamboo and Brazilian cherrywood. Wood flooring goes great in garage conversions to an office, gourmet kitchen, living room, apartment, den, library, cigar room or upscale man cave.
Acid-Stained Concrete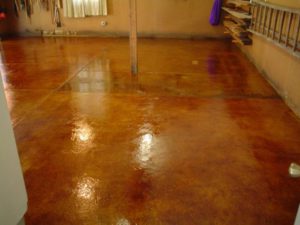 This is a great choice if your garage is going to serve a dual purpose such as a combination garage and game room or man cave. Acid staining produces a granite-like appearance, and it's resistant to car fluids and dirt. On the downside, it's still bare concrete and very hard.
Vinyl Flooring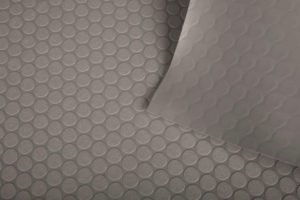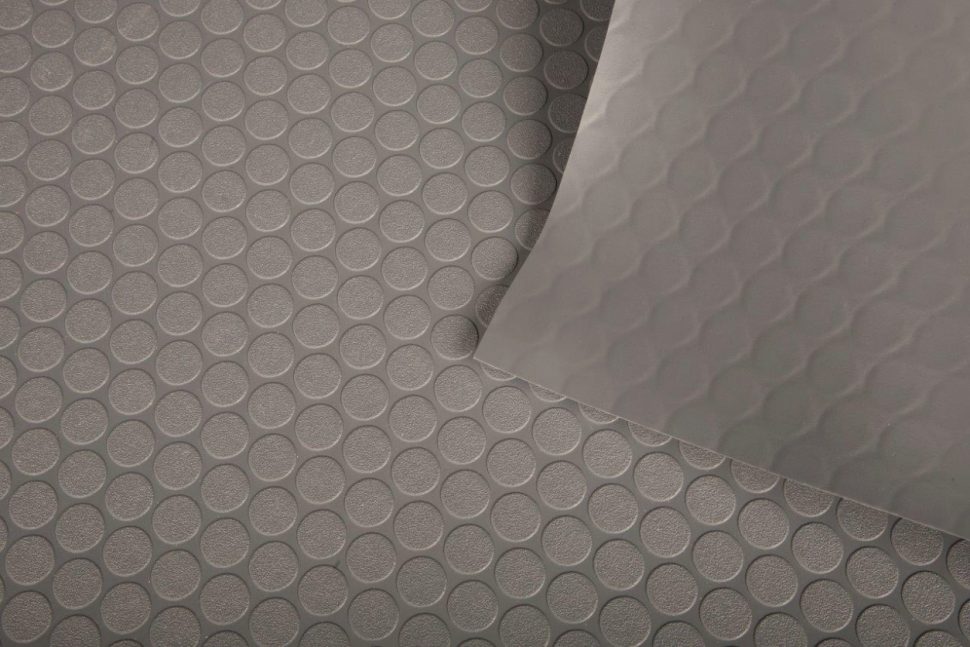 Vinyl flooring is affordable, cleans easily and handles moisture well. It comes in hundreds of colors and designs including those that look like wood flooring, tile flooring or natural stone flooring. It works well in any conversion, especially game rooms and workshops. Perimeter-glue the vinyl for easier removal when you're ready for something new.
Natural Stone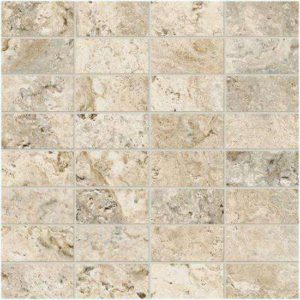 This high-end flooring is beautiful and durable. You probably don't want to drive your truck onto it, but if the conversion is going to be living space only, then it can work. Natural stone makes great flooring for a man cave, home office, cigar room, kitchen, den or billiard room. You may want to add a throw rug or two for warmth and contrast.
Carpeting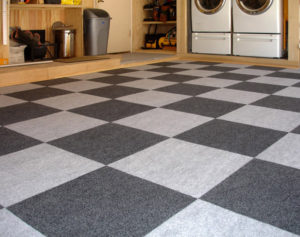 Last but, not least is carpeting. This option is only good if you convert your garage into a room but, won't do well with parking cars on. The main concern is moisture. If the garage door is removed and the space framed in, carpet can work. Look into indoor/outdoor carpet because it is more resistant to moisture and mold. Carpet works well for any garage conversion including a bedroom, family room or apartment. Your choices for style and color are nearly unlimited.
Final Thought
When you're converting your garage into living space, you've got a lot of great flooring choices. How you plan to use the space will play a role, of course. Here we took a look at the most popular options for flooring in garage conversions and what type of conversions they work with. At the end of the day, it's about what works for you and what you like. So, have fun transforming your garage into something that you will love.
Thanks For Reading,
MyNeatGarage